In over 80 languages, VoiceMonk provides excellent video translation services to the world's largest organizations. We help our clients engage foreign audiences with best-in-class video translation services that are simpler, faster, and more cost-effective, thanks to industry-leading video localization breakthroughs. Depending on whether the audio track is altered (dubbing) or not (subtitling/closed captions), there are essentially two approaches for making a foreign language video. Both strategies can effectively communicate with a foreign audience, but they are fundamentally different. Subtitling's cost reductions must be carefully evaluated against dubbing's far better effectiveness. 
The demand for video translation is high. Multilingual videos are now more than ever used by multinational corporations for worldwide marketing, customer acquisition, product training, and technical assistance. Video has evolved into a powerful sales and marketing tool that helps global clients make purchasing decisions throughout the sales process, regardless of the languages they speak. Videos are also useful for self-learning and client assistance.
The transcript is then used by the video translator to translate your content into the language of your choice. We exclusively hire linguists who are highly trained and passionate about their work. Your findings are, once again, all human-generated!
It's not enough to simply translate your video word for word if you want to make it flawless for your international audience. Localization is the key to success. This means that the video translator must not only translate the text but also adjust it to the language's native country. Our staff of translators can ensure that the message reaches the intended audience, adapt jokes and puns, and make video content relevant to the market. VoiceMonk is a one-stop shop for video transcription, captioning, translation, and subtitling. All you have to do is send us the video and the languages you want to use. We'll take care of the rest and send you a subtitled video that's ready to watch. We can deliver videos with subtitles in any language, both regional and worldwide.
This is why you require our services as the leading language translation firm providing linguistically and culturally accurate video translation services in all languages. We offer world-class companies end-to-end video translation services, including language translation, multilingual voice-over, video subtitling, transcription, and multimedia development.
We have reimagined professional video translation services by utilizing our cutting-edge digital media editing tools, which automate audio transcription and subtitling, resulting in a more efficient translation process. Customer testimonials, marketing videos, eLearning videos, TV video advertising, customer onboarding videos, product videos, knowledge-based videos, and support videos are just a few of the sorts of videos we've translated.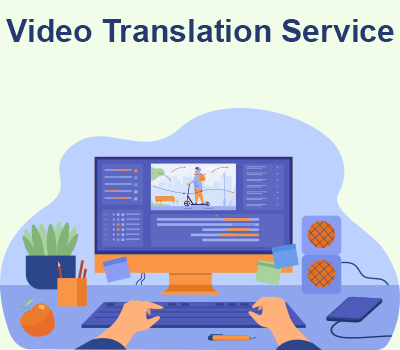 We've narrowed much of the video translation workflow so you can get your videos professionally translated with quality and speed, allowing you to more efficiently launch your foreign language videos in worldwide marketplaces. We can provide our linguists with fast access to translated videos by automatically inserting target language subtitles. This allows our linguists to make real-time translation revisions and finish the project quickly. Our completely integrated video localization environment includes a variety of editing tools, allowing you to expedite the entire video translation process.