Unlike other services, software localization is adapting to the digital experience of the users who speakers other languages or live in a different country. In this current technological era, users understand and interact with a given page or window, or screen. The digital area is the most difficult but important area to be translated. Software localization is the core part of our advanced technological translation identity. It is not as easy as translating a paragraph with the help of expert linguists, this requires advanced technology and a team with advanced know-how of the topic.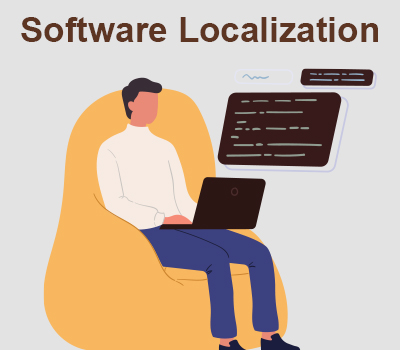 Our software localization service has experts who have the technical knowledge of processing in programming in JavaScript, ASP, PHP, JSON, HTML, DHTML, C-Sharp, C, C++, Java, and other machine languages. They will be working on the software, leading to significantly improved linguistic quality and technical accuracy. Our linguists who are native speakers will be reviewing the text during the translation process to ensure the exact meaning is derived. Our model caters perfectly to the ever-changing and
fragmented needs of the software industry and gaining time to market advantages. This software localization is a single step away from globalizing your software product. We have a perfect match for each of your market requirements, ranging from Malayalam to Mandarin. Our flexibility in services provides you the opportunity to select the translators with expertise in subject matter and translation history, so the software has the most authentic and accurate content. Now, localization being the key to reaching a large number of audiences, many organizations have adopted software localization. 
Once the localization of the content is done; our engineers make sure that localized software is functioning smoothly and free of any glitches. It is important to have the application free of any glitches to maintain the confidence of the consumers. Our tech experts and linguists do double checks and quality analysis to ensure that the product matches the requirement. This checking will also help in removing any misinformation or loss of information and make sure the translated texts have been applied correctly.
Along with our bilingual subject matters, we require technical experts to execute all types of software localization and involving in all types of processes from pre to post-translation process. Our software localization service will provide one of the best immersive end-user experiences that meet the functionality requirements & cultural expectations of the target audience. It is all about teamwork, and our undivided attention and dedication towards your project will be our utmost priority and will deliver the most
premium results at your highest satisfaction. We are also specialized in services such as voiceover, subtitling, dubbing, audio recording, transmission, transcription, e-learning solutions, video shooting, etc., with a tremendous work ethic.
Therefore, if these are the services you are looking for, then you have reached the right place. To avail best of our services visit our website and enjoy the opportunity at the best price.