We can assist you whether you have one or several videos. You'll get a complete, cost-effective, and hassle-free subtitling package. VoiceMonk collaborates with a global network of skilled subtitlers, yet you deal directly with us and can rely on us to complete your assignment according to your instructions. Our in-house subtitlers and project managers use industry-standard subtitling software and double-check all subtitle files before delivery, so you don't have to. With over 16 years of experience in the field of subtitling, you're in good hands. You may rest confident that your subtitles will be correctly timed and translated.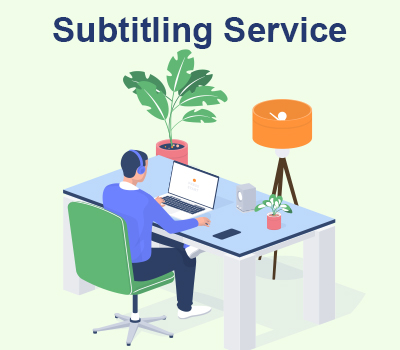 We provide an experienced and dedicated team of professionals who collaborate with translation and production organizations on a regular basis. We are aware of the technical prerequisites for producing a flawless foreign language. Because there are numerous means to transfer information, language diversity is no longer an issue thanks to technological advancements. Through successful translation services, subtitling services should be able to turn ideas into reality and promote communication.
To deliver accurate information to viewers, a reliable subtitling provider is vital. The audio information and the textual text should be synced while creating subtitles. Experts in subtitling services should be up to date on industry standards, the latest technology, and the regulations that must be followed in order to preserve high-quality video standards. Subtitling should focus on designing manual subtitles rather than relying on auto-generated subtitles to ensure content correctness and transmit the exact meaning of the visual media. Subtitling services should strive to give viewers an authentic viewing experience by making them feel as if they are seeing the content in their original tongue.
Our subtitling services improve communication between the video's content and the viewer. We make sure that the user is immersed in the video's context. We create subtitle services intending to make all information, dialogue, and logic as clear and precise as possible. We put a specific emphasis on making the content more accessible by providing basic and easy-to-understand subtitles. Our intralingual subtitle professionals create precise and accurate subtitles. They fully comprehend the film and transcribe it into a written document in the same language as the video, with no alterations to the subtitles. We double-check that the subtitles are in sync with the dialogue.
Our translators are native speakers of the target language, are entirely proficient in the source language, and have extensive experience translating subtitles. At least two translators to ensure the greatest level of quality control for our subtitling services review each of our translations. We're familiar with all of the major streaming platforms' specific formatting and style standards, and we can quickly include any unique requirements you may have for your project.
For high-quality subtitling services, we offer some of the most competitive pricing in the market. The price of your subtitling assignment will be determined by a number of criteria. We make every effort to put the cost of high-quality subtitle services within reach of businesses of all sizes and sorts. We'd be delighted to talk with you about your subtitling job and recommend the best cost-effective solution for your specific requirements.