A growing number of translation firms offer services in dozens of languages spoken all over the world. In most cases, translations are done in the traditional method, with a translator who is fluent in the target language and a native speaker of the source language. Our translators are native speakers of the target language, ensuring that the final translation is immediately intelligible by the target audience/market and sounds natural, just as it would if the material had been written in the target country. We've supplied high-quality native speaker translations into nearly every regional and worldwide language.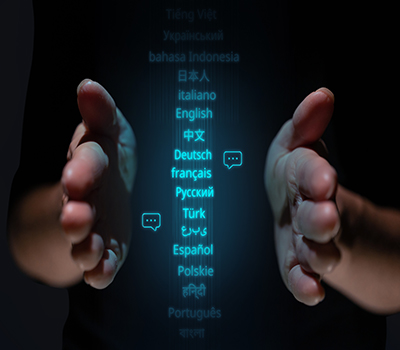 The literal translation of sentences and phrases is used in a number of translations handled by people whose mother tongue is the source language. A native speaker gives more than just a translation; his or her content is localized, which means it seems natural and fluid to the intended audience. A native speaker's translation will protect your work from cultural or linguistic errors that could negatively impact its reception. A native speaker's translation ensures natural-sounding content that is understandable and
easy to read by a foreign consumer or business partner. Because native speakers are in continual contact with their native language, they are aware of its changing character and can discover a natural and effective manner to present the translated content.
We work with a variety of translators, each with its unique area of expertise. That is how we can supply you with the most effective translations possible. Depending on your preferences and the field in which your company operates, we use the appropriate translation. As a result, we can provide a high-quality translation. Our translators specialize in, localization, SEO translations, transcreation, proofreading, and rapid translations, among other things.
We can provide you with translations in 80 languages thanks to our large team of translators. This is how we can provide you with the possibility to have texts translated into multiple languages fast and efficiently.
This implies that our translators are limited to translating into the languages in which they are fluent. Native speakers understand how to employ the appropriate tone of voice and local characteristics in translations like no one else. As a result, translated materials are compelling and directly linked with the local target audience. Because many of our native speakers live in their home countries, they are up to date on current events in their home countries.
We specialize in a variety of specialties when it comes to text translation. Whether it's a mainstream or non-mainstream language, our native translators are highly skilled and ensure that translations seem natural and that the tone is appropriate for your needs. We recognize that time is of the essence, which is why we spent over a year designing our platform to assure prompt delivery. Because our translations are completed by persons who are native speakers of your target languages, we can guarantee the greatest possible quality. It also means that your translation is tailored to your target audience. You may lose business if your writing appears to have been authored by a non-native speaker unfamiliar with local terminology and customs.