Awadhi, the Indo-Aryan language is spoken in the Awadh area of Uttar Pradesh, India. 38 million individuals, likewise in districts of Bihar, Madhya Pradesh, Delhi, Nepal, and Mauritius, communicate in the Awadhi language. The language is viewed as one of the vernaculars of Hindi. Awadhi has started from Brij Bhasa, which is the most established language in the locale. Magahi, its language toward the east, additionally impacts Awadhi.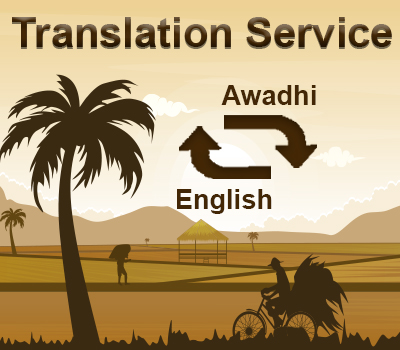 There are a few translation benefits that case to give a hands-on experience with translation, not every one of them can convey that precise translation work and service. At VoiceMonk Translations, we enlist proficient Awadhi translators in our Awadhi Translation Service for your different translation needs and requests. These etymologists are very much experienced and can comprehend the need and employments of different terms related to a specific language. We generally endeavor to complete our customer's tasks on schedule
with the ensured nature of work that we offer. We chose our translators who have related knowledge and abundant information in the field, the will give a precise and solid translation, guaranteeing that you get quality work constantly. Alongside that, we try to check the content before accommodation to stay away from any slip-ups, so you can be sure that the content being given is right and precise. This will assist us with improvising the content as indicated by your inclinations and assist your task with arriving at its objective.
In our Awadhi translation service, they are the native speakers of the language, so the translation gave will be more exact gathering all derivations of the language, guaranteeing no disarray or errors. The undertaking will be managed at different levels so that there is a smooth interaction between us getting the work and returning it back to you.
VoiceMonk Translations has joined forces with many happy clients, with our exceptional services and generally famous among them being the translation service. Whenever you are associated with us, it turns into our sole liability to direct you in each progression with the assistance of our expert and very good-quality sound equipment. With more than 16 years of involvement, the studio offers different types of assistance, for example, voice-over, subtitling, dubbing, sound recording, transmission, transcription,
e-learning arrangements, video shooting, and so on, with an enormous hard-working attitude.
VoiceMonk is set to deal with different testing projects whether it is small scale or large scale, we will give the best of our services at a cutthroat cost on the lookout. Our adaptability extends even after available time, you can contact us through mail or telephone, and we will be there at your doorsteps with our best Awadhi Translation Service. It is about cooperation, and our full focus and commitment towards your task will be our most extreme need and will convey the most exceptional outcomes at your highest satisfaction.
VoiceMonk is a well-known translation agency that provides Awadhi Translation Services. Our services are Technical Translation, Academic Translation, Video Translation, Website Translation, Game Translation, Book Translation, Manual Translation Reach us at (+91 8700295007). You can mail your requirements at [email protected]